Dale - Harris & Co
Chartered Certified Accountants
Our Services
Accounts preparation
We prepare annual accounts for sole traders, partnerships and limited companies. Although this is often done primarily to satisfy a statutory obligation, we feel that it is much more important than this.
Our work on your annual accounts gives us a great insight into the practicalities of how your business functions. This allows us to identify any opportunities for saving tax or increasing your profitability.
Once your business has successfully grown, we can also prepare monthly or quarterly management accounts so that you are always completely up to date with how the business is performing.
By using our bookkeeping and/or payroll service, we can also help you to reduce the time and cost involved in preparing your annual accounts
back to top
Corporate and personal tax
We will prepare your corporation tax return and/or personal self assessment return and ensure that these are submitted online before the appropriate deadline. In addition we will keep you informed of any key dates with regard to paying your tax. Throughout this process we work hard to ensure that your tax liabilities are kept to a minimum.
back to top
Business start - ups
Most business start-ups are driven by ambitious entrepreneurs with a good business plan, and the technical ability and commitment to see it through. However, the legal and financial aspects of setting up a business can often seem daunting - this is where we can help.
We will help you to decide the most suitable structure for your business, be it sole trader, partnership or limited company. We can then help you to put the building blocks of your new business in place, including the same-day formation of limited companies, registering for VAT and advising HM Revenue & Customs of the new business.
back to top
Bookkeeping, payroll and VAT
These relatively basic accounting requirements can easily soak up a great deal of your time - time that you can surely spend on more productive aspects of your business. We can offer a solution tailored to your specific requirements, and agree a fixed fee in advance.
back to top
Self Assessment
The term 'self assessment' (originally to be called 'simplified assessment'!!) is rather optimistic as far as many taxpayers are concerned. The constant stream of changes to tax legislation means not only that the returns are becoming more difficult to understand but also that taxpayers risk incurring interest and penalties through failing to complete their returns on time or correctly. We can save you a lot of time and stress by handling your self assessment for you. Once we have prepared your Return, our systems allow instant online filing.
back to top
'Buy to let' landlords
The boom in the popularity of this sector has created a lot of new 'customers' for HM Revenue and Customs. Unfamiliarity with the rules regarding the calculation of your taxable profit can ultimately result in unpleasant penalties and interest - not to mention the time needed to complete the dreaded self assessment return itself. We can prepare your return quickly and accurately, and then file it securely online. We can also advise on the capital gains tax implications should you consider selling your property.
back to top
Sage Software
We are proud to have a long association with Sage, and with our experience we can help you choose the right software for your business. We also offer an installation and training package to ensure your business is up and running as soon as possible.
back to top
CONTACT US TODAY >>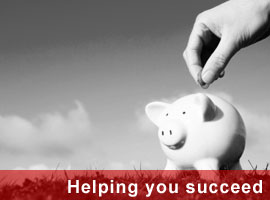 Contact Us
Please contact us today to arrange your free and informal no-obligation consultation.
WHY NOT EMAIL US? >>